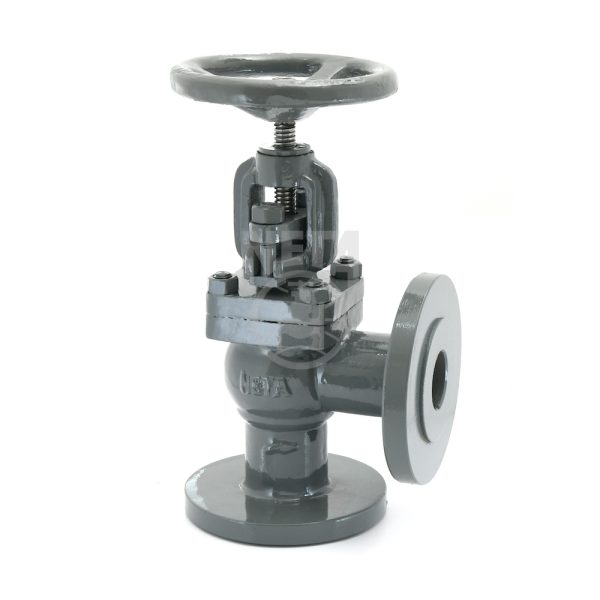 Description
NETA Cast Iron Globe Stop Valve
Right Angle Pattern
BS:5152
Bolted Bonnet
Outside Screw and Yoke Type
18/8% Cr/Ni Stainless Steel (AISI – 304) Trim
Flanged Ends to BS:4504 Part 1 Table 16 / 11 / DIN 2533 PN16
Raised Face Drilled / Undrilled
Test Pressure
Body : 26 Kg/cm² Gauge Hyd.
Seat : 16 Kg/cm² Gauge Hyd.
Back Seat : 16 Kg/cm² Gauge Hyd.
Design Features
Stream line shaped flow way area for smooth flow of working fluid for minimum pressure drop.
Bolted Body – Bonnet Joint.
Renewable Body Seat & Disc Facing Rings.
Bolted Gland.
Back seating arrangement permits the replacement of gland packing in fully open position while the Valve is under inline pressure.
Large lift to avoid obstruction in the flow way area.
Sturdy spoked handwheel clear from the top of yoke is provided for operation of the Valve.
Designed for tight shut off & efficient fluid flow control.
Ample depth of Stuffing Box.
Certification
IBR Test Certificate in FORM III-C duly signed by the Director of Boilers, Punjab is provided for Valves to be used on steam service.
For services other than steam our own Works Test Certificate shall be issued.
Application
Steam, Water, Oil
HSN
84818010