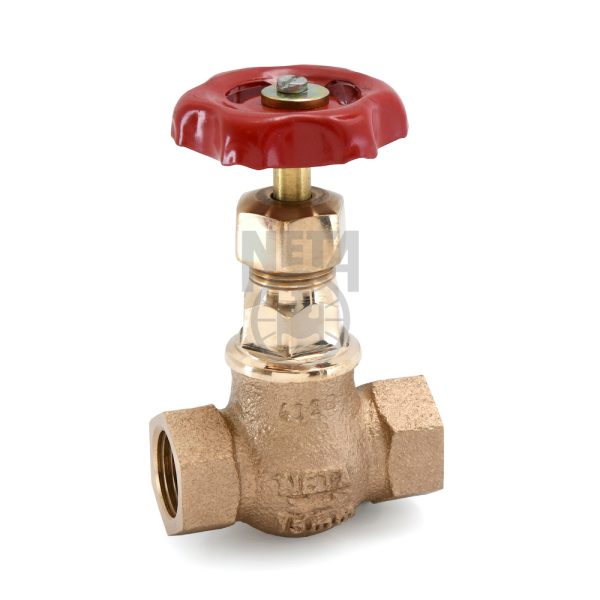 Description
NETA Leaded Tin Bronze (IS:318 Gr. LTB2) Globe Valve
IS:778/84 Amendment Nos. 1 and 2, Class 1
Screwed in Bonnet
Inside Screw
Rising Stem
Integral Seats
Screwed Female Ends conforming to IS:554 Parallel Threads
Handwheel Operated
Test Pressure
Hydraulic Test Pressure
– Body : 1.5 MPa
– Seat : 1.0 MPa
– Back Seat : 1.0 MPa
Design Features
The design of the Valve body is such that it provides ample resistance to distortion under the maximum cold working pressure.
Minimum Flow way area through the seats is not less than 85 percent (Clause 7.1.2 of IS:778-1984 Amendment No. 1 & 2) & whereas flow way area at all other places through & between the ports of the Valve is not less than area of the circle equal to the nominal size of the Valve.
Back Seat arrangement permits the replacement of the gland packing in fully open position while the Valve is under line pressure.
Stuffing box is of ample depth for filling Gland packing.
The ends of the Screwed Valves are in the form of hexagon to facilitate wrenching. The threading at the ends confirm to IS:554-1975 female threads. Other types of threads can be provided if specified in the purchase order.
Loose Plug type Disc is provided to ensure self-alignment.
Gland is of two piece design consisting of a sleeve sliding in the stuffing box secured by a screwed hexagonal gland nut.
Certification
A certificate shall be furnished stating that the Valves supplied conform to IS:778 – 1984 Amendment No.1 & 2.
Application
Water
HSN
84818020